Got some pics via email, of our Fandango Pro Tank Bag, with Pannier Pockets attached, out on the trail. These pics were taken by Giant Loop Rider, Charles, while riding his KTM 450 EXC in the Whitmore Wash, in the Grand Canyon.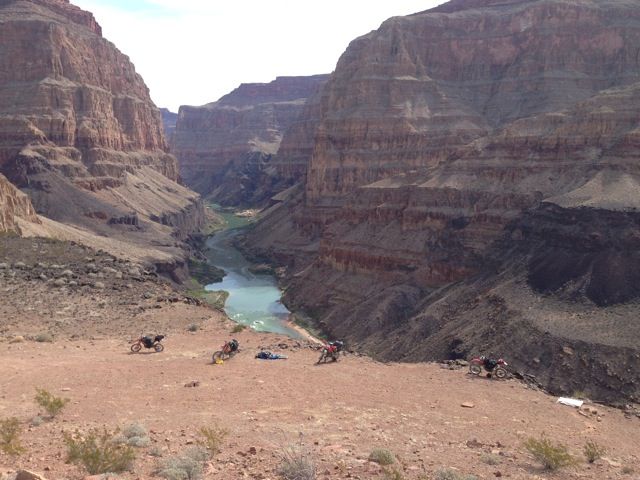 He wrote:
"We all have GL?s or we couldn?t make these trips possible. We?ve tried other options and find that having the weight placed low on the bike and close to us as possible, helps. It allows us to carry gear and have fun while doing so. We were on the bikes for a total of 4 days, around 345 miles round trip.
My set-up worked flawlessly! And let me tell you, we rode some major rough terrain! Lava rock no smaller then the size of softballs for miles! All three GL?s stayed where I put them.
Fandango Pro-
Installed easily. Stayed put thru the trip. Having the two zippers on either side was the best, as i was able to pull it off and store in my tent without pulling straps! I also was able to keep important items in one location and take it with me easily. I used map compartment as we traveled several trails we?ve never traveled. It hailed on us twice and keep all contents dry. The concealed pocket was a total bonus!!
Pannier Pouches were amazing! I put two 1.89 Liter (1 extra gallon total) containers of fuel to extend the range on my moto! Carried the weight well without any issues, plus blocked some of the unexpected arctic winds/hail that we experienced on the trip out! I?m only 5?10, so I fit really well with them. My friend sat on my bike and he?s 6?6 and he still could have used them.
One of the guys has the newer Coyote Saddle Bag with the Cinch Ring Harness and he really liked it. Seemed to be a nice feature that he used to hold extra camping gear.
All said, all four of us love using your products. We are a no frills bunch who live in So-Cal and do a lot of 3-4 day trips into some very remote/rocky locations. We are hard on gear, and don?t like things to fail. Your products continue to impress us and keep us out where we want to be! Away from everyone else."
Thanks for sharing your great story and pics,Charles!