2014 has a few special rides scheduled for Giant Loop. The first ride is Baja next month, when HOC will travel South with GL Team Rider Brad, to ride with Chilly White of enduro360.com. HOC has always wanted to ride Baja and when Chilly invited him to join a ride this year, HOC jumped at the chance!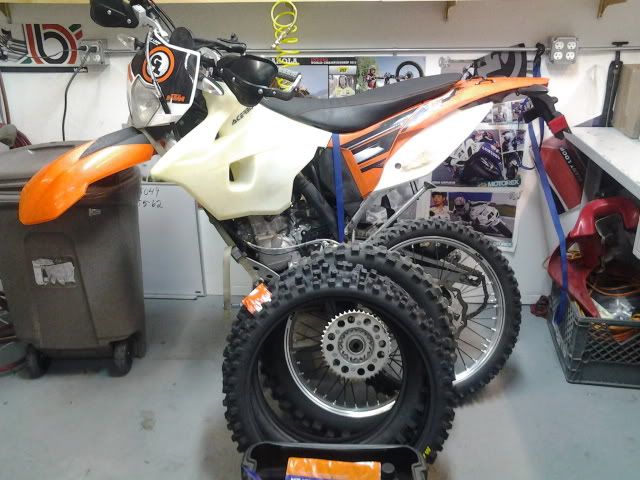 This led to evaluating Giant Loop's KTM 500 EXC and getting some maintenance and setup details organized(and stripping the bike). ?The list had everything from gapping the valves, to tires, to suspension, to fuel filler filter sock. Of course, this is in addition to the discussion about which of the new 2014 Giant Loop gear to take on the ride. Coyote Saddle Bag is a no brainer, but which tank bag combination? Fandango Tank Bag, Diablo and Pannier Pockets or Buckin' Roll with Pannier Pockets, what will it be?
First on the list was a valve check and GL racer Alex Sherman sharpened up his feeler gauges to perform the deed. After Alex gave the valve gaps a good gauging, he found them all in spec and none needed a shim swap. Next on the list was fresh lube, filters and rubber. I got the oil and filter managed, then pulled the Suspension off to send out to our friend Alex Martins at Konflict Suspension. Alex has a new dampening formula for the KTM 500 EXC and HOC is excited to try out the smoother action, during this ride. Next up is swapping the tires out for the Maxxis IT-Desert. The KTM still had the OEM Pirelli front and a half worn Dunlop 606 rear, so with both wheels off, the tire swap was gonna be easy.
Stay tuned for the next round of prep work!